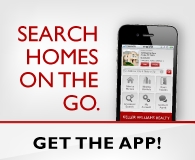 Make your search easier when you are out and about. Download the free Crispin Team mobile app to help you find homes for sale near you. Because your home search should go where you do.
Get the most accurate and up-to-date real estate information right at your fingertips:
Easily connect with your agent, and send property inquiries instantly.
Draw a circle on the map or drop a pinpoint to search that area.
See property details and full-screen photos, get driving directions, mark your favorites, create notes about what you liked, or share it with family and friends.
Estimate your home loan with a free mortgage calculator.
Apply for a mortgage with Keller Mortgage.
View Open Houses in your area. View Rental Properties in your area.